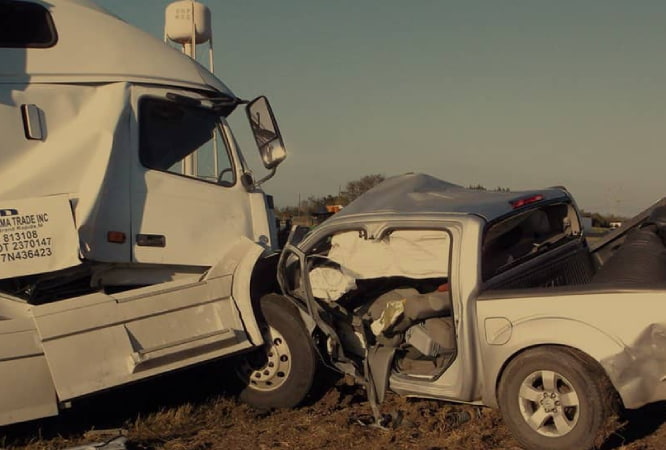 18-WHEELER ACCIDENTS IN TEXAS
There are over 24 million registered vehicles on Texas roads today, but that doesn't include the hundreds of thousands of commercial vehicles and 18-wheeler trucks that travel in our rural areas and major highways. Professional truck drivers undergo tough training, and there are state and federal laws in place to ensure those drivers operate their trucks in a safe manner. Unfortunately, accidents can still happen, possibly resulting in fatalities and causing catastrophic injuries to everyone involved.
Causes of 18-Wheeler Accidents
There are many reasons why 18-wheeler accidents can occur:
• truck driver fatigue (drivers working long hours without the required resting periods)
• distracted driving
• poor driver training by trucking company
• speeding and/or other reckless behavior by the truck driver
• drug and/or alcohol use by the truck driver
Common Injuries 18-Wheeler Accidents
The drivers and passengers of smaller vehicles can face many physical injuries when involved in a crash with an 18-wheeler. Some of these are:
• traumatic brain injury
• soft-tissue injury, such as whiplash
• bone sprains and fractures
• joint damage and dislocations
• back sprains, fractures, and disc dislocations
Psychological Effects of 18-Wheeler Crashes
Sometimes the worst injuries faced by crash victims are invisible. Post-traumatic stress disorder, or PTSD, is an emotional reaction to an extremely stressful event. Even if the victim recovers from physical injuries, the emotional effects of a crash can last a long time and be disruptive to daily life. Some symptoms of PTSD are:
• disturbing flashbacks of the accident
• sleep disturbances and/or nightmares
• severe anxiety
• depression
• negative thoughts
• angry outbursts
• withdrawing from social activities
Experienced 18-Wheeler Accident Attorneys Can Help
Being involved in an 18-wheeler accident can be frightening and stressful, but the experienced attorneys at Gutierrez Law Firm can help. We have successfully litigated 18-wheeler accidents throughout the state of Texas; so if you or a loved one has been injured in an 18-wheeler accident, contact us for a free consultation.